SUZUKI TADASHI NO SEkai

Suzuki TadashI: Selected Theatre works (DVD)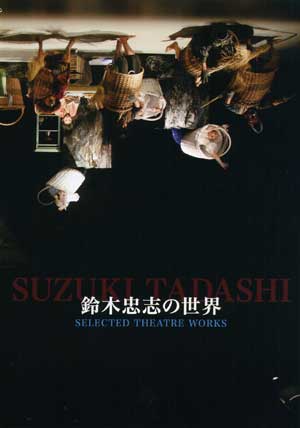 Available at:
amazon.co.jp
For further information:
SCOT (Suzuki Company of Toga)



Ivanov (1992)
A Tadashi Suzuki Theatre Production with Music by Roger Reynolds

Other productions on this DVD:
Greetings from the Edge of the Earth
Dionysus
Cyrano de Bergerac
liner notes by Mark Swed
from Electroacoustic Music CD

About:
Tadashi Suzuki is arguably Japan's most dynamic and original director. In 1991, Reynolds and Suzuki agreed to collaborate on a new production of Chekhov's early play, Ivanov. The 8-channel, computer-processed sound that Roger Reynolds produced for the occasion comprised the specifics of a primary, lower surround-field and also an atomspheric, echoing, upper level. His music could, thus, be seamlessly integrated into the spontaneous flow of Suzuki's on-stage events.

In 2011, the Japanese National Television service produced a 3-DVD set entitled "Tadashi Suzuki: Selected Theatre Works". One disc is devoted to the Chekhov production (with English subtitles). It provides a rare opportunity to experience the melding of two masters from different cultures, different artistic fields.

Ivanov was premiered at Arata Isokai's Art Tower Mito, in Mito, Japan, on 3 January 1992, and subsequently received dozens of performances. It was co-commissioned by the Rockefeller Foundation MAP Fund and Art Tower Mito. Ivanov is subtitled in English.

Reynolds's The Ivanov Suite is available on a New World Records audio CD.

"Roger Reynolds is not easy to characterize," begins the biographical note that accompanies the Japanese program to Tadashi Suzuki's production of the Chekhov's early play, Ivanov. And he is not. ... what makes Reynolds's music rich and interesting is that the various wings of his musical house are not entirely compartmentalized. ... Unwilling to give up what he calls the vitality of natural sound, he uses the computer to explore in depth the properties and hidden beauties of a wave or a flutist breathing into her instrument. Thaw hypersensitivity of sound often finds a visceral equivalent in both Reynolds's concert and theater music.

The music of Ivanov is collaborative, untilitarian music for the theater. ... Suzuki told Reynolds that there were only two or three specific musical things he sought. He wanted to use a Japanese pop song ["Ukigusa"], he wanted some religious music, and he wanted some primitive music. ... Reynolds ultimatedly decided upon ... the idea of opposition, looking at the religious and the primitive as if they were polar: ... "extremly organic, archaic, maybe just a little bit vulgar" [on the one hand, and] "aggressive, unpredictable, and with a cataclysmic impact [on the other]. "Trumpet Dream" is a montage of recorded trumpet matrial streched and circulated in space, while "Piccolo Dream" fragments piccolo matrial into small points of sound with strobe-like intensity.
– From Mark Swed's notes for the New World CD of The Ivanov Suite.