arditti quartet plays roger reynolds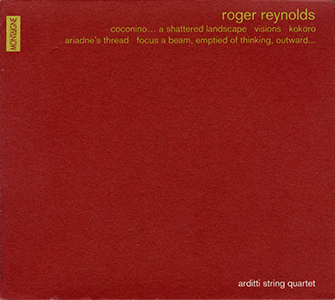 Unavailable

Coconino...a shattered landscape (1985, revised 1993)

Visions (1991)

Kokoro (1992)

Ariadne's Thread (1994)

Focus a beam, emptied of thinking, outward... (1989)

Recordings: Josef Kucera

Producer for Ariadne's Thread: François Eckert

Liner notes by Ciro G. Scotto

Label: Montaigne: Auvudis/Naïve MO 782083

Dates of recording: ® 1994/96 © 2000

Recording engineer: Josef Kucera

Ariadne's Thread: Producer: François Eckert



About:
This two-CD set, released on the adventuresome French label, Montaigne in 2000, contains the first three of my mature string quartets as performed by the celebrated Arditti ensemble (Coconino … A Shattered Landscape, Visions, and Ariadne's Thread) as well as two extended solo compositions. The earlier of the two is Focus a beam … emptied of thought, outward …, a kind of musical meditation written for the quartet's Sri Lankan cellist, Rohan de Saram, the latter, commissioned by its leader, violinist Irvine Arditti, is Kokoro. There are extensive liner notes in English and French by the critic/scholar Ciro Scotto, and a very thorough and searching review by Thomas DeLio in The Computer Music Journal (2002) Vol. 26, No. 2, pp. 103-106.
– from the liner notes
In his book A Poetics, poet and literary critic Charles Bernstein once noted that form is "how any one of us interprets what's swirling so often incomprehensively about us .. ." The complex sonic evolutions that constitute each of Mr. Reynolds's compositions beautifully and eloquently articulate this conception of form. … The triumph of his music, as I see it, lies in the way it shows us that the very framework of our perceptions is itself in a state of perpetual flux. Every one of his compositions reveals this in a new and startling way. No other composer active today has done so quite as brilliantly.

In every respect this is an exceptional CD set. It offers an extraordinary collection of works ... all performed with technical finesse, in- sight, and sensitivity to both form and detail. For anyone not yet familiar with Roger Reynolds's music it affords an excellent place to begin one's exploration. For those who are already familiar with his work, it will reward with ever new and varied insights. … The Arditti Quartet brings this music to life with extraordinary clarity, subtlety, and intensity.
–Thomas DeLio Computer Music Journal, Vol. 26, No. 2 (Summer 2002)