Roger Reynolds: Complete Cello Works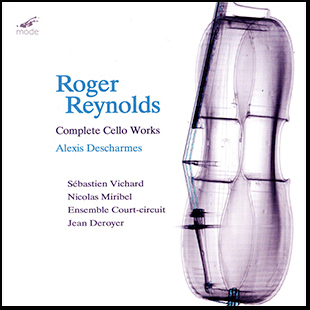 Available at:
hbdirect.com
amazon.com
ArkivMusic


Process and Passion (2002)

imAge / piano (2007)

Focus a beam, emptied of thinking, outward... (1989)

Thoughts, Places, Dreams (2003)

A Crimson Path (2000-2002)

Colombi Daydream (2010)

Primary Artist(s): Alexis Descharmes, Nicolas Mirabel, Sebastien Vichard

Conductor: Jean Deroyer
Court-Circuit Ensemble

Label: mode 277
Date of recording: 2014

Recording, editing: Alice Legros
Mastering: Josef Kucera

About:
As I began writing these notes, I realized that words, text, and the phenomenon of "voice" are deeply implicated in much of this body of work. It has always seemed to me that the cello was an essentially vocal medium, that it was an instrument that is capable – in the right hands, led by the right ears, of course – of uttering remarkably direct, urgent, and expressive messages to its listeners.
– Roger Reynolds
A performer does not very often have the opportunity to collaborate with a composer in a relation of proximity. By 'proximity' I mean the possibility of being the performer in a two-way collaboration. The composer knows the performer well, the latter knowing the composer's music, and the new works that spring from a collaboration between the two, whether proposed by the former or requested by the latter, imperceptibly take on the features of both creators. It is when the performer begins to recognize, through a new score written for him, characteristics of his playing and personality that the field of intimacy begins.
– Alexis Descharmes

The concerto I wrote for Alexis, Thoughts, Places, Dreams, is an exploration of the musical and expressive spaces laid out earlier in its genetic sources: imagE/cello and imAge/cello. The idea for beginning a series of complementary solos for different instruments was in my mind when Alexis Descharmes asked for a contribution to his touching project: "30 ans > 30 créations." From the beginning, I was thinking about a large space of opportunity, connecting the subtle and evocative to the articulate and assertive. This space was also related to my impressions of Alexis himself.
– Roger Reynolds

... it was with a certain apprehension coupled with a ferocious appetite that I discovered the sound universes of Focus a beam, emptied of thinking, outward..., A Crimson Path, and Colombi Daydream. All these pieces have one thing in common, something very precious: they resemble nothing else. That is, moreover, what one might say about the music of Roger Reynolds in general: "What does it resemble?" "Reynolds"!
– Alexis Descharmes