Mystery VariationS: ON GIUSEPPE COLOMBI'S CHIACONA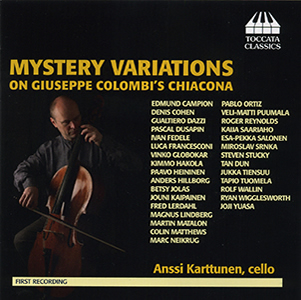 Available at:
iTunes
Toccata Classics
Amazon

Columbi Daydream (2010)
by Roger Reynolds

Mystery Variations on Giuseppe Colombi's Chiacona
Liner Notes by Anssi Karttunen
Label: Toccata Classics TOCC 0171




About Colombi Daydream:
This work was written as a fiftieth birthday tribute to the remarkable Finnish cellist, Anssi Karttunen. It is based upon the seventeeth-century Chiacona per basso solo by Giuseppi Colombi (1635 – 1694). It involves iterative patterns, as its model does, but their nature, and the attitude taken towards material and sound, depart in often whimsical ways – a kind of daydreaming – from Colombi's world. Fives, and , of course, the number 50 itself are at work everywhere in this piece.


Mystery Variations on Giuseppe Colombi's Chiacona – review

When the Finnish cellist Anssi Karttunen turned 50 in 2010, his wife, Muriel von Braun, and the composer Kaija Saariaho invited 30 composers, whose works Karttunen had played, to write variations on the Chiacona by Giuseppe Colombi, often regarded as the earliest piece composed for the cello. None of the composers knew who else was contributing, and Karttunen committed to performing them all sight unseen. … Gathered together, the miniatures make a comprehensive and enjoyable compendium of contemporary cello techniques, in pieces that may stick close to the theme, or bear little relationship to it all; however they come, though, Karttunen plays them with his usual unflappable mastery.

– Andrew Clements, The Guardian, Thursday, 21 February 2013