Roger reynolds: Voicespace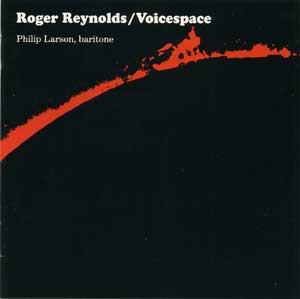 Available at:
amazon.com
amazon.co.uk


The Palace (Voicespace IV) (1978-1980)
Bass baritone and quadraphonic computer processed sound
Eclipse (Voicespace III) (1979) Electroacoustic vocal work
Still (Voicespace I) (1975)
Electroacoustic vocal work

Liner notes by Roger Reynolds

Primary Artist: Phillip Larson, Bass Baritone

Label: Lovely Music LCD 1801

Dates of recording: 1975, 1979, 1980



Recording: Kip Sheeline, Charles Seagrave, Roger Reynolds

Editing: Josef Kucera
Originally recorded as an LP, Including Still (I), A Merciful Coindence (II), Eclipse (III), and The Palace (IV). Lovely Music VR 1801-2, Vital Records, Inc. © 1982


About:
Voices, language and space… they interested me even in the early 60s when I wrote The Emperor of Ice-Cream for the ONCE Festivals in Ann Arbor. Since each of us knows so much about the behavior of the voice – intimate endearments, rage at a distance – it is an ideal vehicle for auditory spatial illusions (all the more when in the service of language and its powers of invocation). In the early 70s, at the Center for Music Experiment in La Jolla, I heard daily rehearsals of the Extended Vocal Techniques Ensemble as they perturbed vocal norms. Evenings, I read my daughter to sleep trying to capture, for each character in the story, an individual and consistent vocal behavior. She was a demanding critic, and stimulated a good deal of nocturnal reflection about vocal identity. Electronics, at first analogue, later digital systems, offered rather precise control over auditory space (a particular sound's size, location, distance, the character of the host space in which it was heard). I sought spare but evocative texts and tried to conjure up unfamiliar yet appropriate vocal behaviors with which to present them. The five works in the series thus far share a concern with the potential of auditory spatial imaging: this is a subject still only tentatively broached. They attempt to create a personal theater through the mind's ear. Yet they are distinct. Three of them are presented here.
– from the liner notes by Roger Reynolds