Roger Reynolds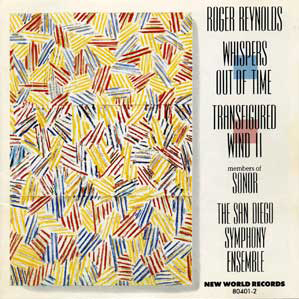 Available at:
amazon.com
amazon.co.uk
iTunes
Whispers Out of Time (1988)
String orchestra

Transfigured Wind II (1983)
Flute, orchestra, and tape

Liner notes by Kyle Gann

Primary Artist(s): The San Diego Symphony Ensemble; members of SONOR; John Fonville, Flute

Label: New World 80401-2

Date of recording: 1989

Recording: Josef Kucera, Tim Labor, Michael Laughbaum, Joseph Magee, Fred Vogler, Ronald Quillin

Editing: Josef Kucera


About:

A disc produced in response to my receipt of a Pulitzer Prize for the string orchestra composition, Whispers Out of Time. Its six movements consider, phrase by phrase, poet John Ashbery's musings on the artist in the larger world – in past centuries, in our time – in his "Self-Portrait in a Convex Mirror."

Included also is the first work I produced involving an instrumental soloist, an orchestra, and algorithmically processed computer sound, Transfigured Wind II.
– Roger Reynolds


Critic Kyle Gann assesses in the booklet notes the significance of these two large-scale works: "Few composers can match Reynolds for technological sophistication. Of those who come close, no others have written such human, ear-conscious music."
– Kyle Gann